Project Pix
Project Pictures - Page 2
Florence sent in two pictures of this spectacular quilt that she made. The green blocks use the redwork designs, Melissa. This quilt is for her granddaughter (lucky kid!).

Click on the picture to see larger pictures of this beautiful work.

Denise is really getting excited about the arrival of Jonathan in August and has made him some great soft baby blocks to play with. The first one was made the designs in the soft baby blocks set and then the second one was made to match the quilt she has already made with our Baby Dinos (see project page 2).

Click on the picture to see a larger view.

This is a darling wall hanging made by Kathy from Atlantic City using our blank Baby Tee. The fabric is Winnie the Pooh.

Click on the picture to see a larger version.

From Susan in New Jersey:

A friend's daughter is having twins - one of each! I always give quilts for baby shower gifts, and had been saving your Scotties pattern in my favorites folder until I had a use for it. This was the perfect opportunity, and I got to use both patterns. I have a large selection of 4" and 12" pieces of 30's reproduction fabrics (many of them fairy tales) that I purchased over time for just such projects. Note that I machine quilted them with a decorative stitch that resembles a double blanket stitch. Thanks for a great design that made it easy to showcase these fabrics.

Click on the picture to see both quilts in detail.

Here's a great use for our Baby Faces Designs: Dorothy used the designs and skipped the applique in the center. She put in the names of her DD's grandchildren on this sweat shirt.

Click on the picture to see a larger version.

From Maryann:

Sending some photos of your skate designs that we at Luchi Wear Enterprises have embroidered on hoodie sweatshirts for some skater friends we know. We took the liberty of adding crystals as well.

Check out their web site: WWW.Luchi-wear.Com

Click on the picture for a larger view
This quilt was made by Denise for her grandson, Jonathan, who is due in August. Jonathan's mommy is using dinosaurs for the theme and our applique Baby Dinos worked out very well. Grandma is also putting the Baby Dinos on prefolded diapers to use as burp cloths.

What a lucky little baby! Grats to Mommy and Grandma!

made by Pat B

Applique Designs used for a summer wall hanging.
Baby Tees are just perfect for making a special quilt for that special someone. Here are pictures sent in by Terry from Wyoming. She told us this one was made for a little boy. The t-shirts, sashing and borders are all made with flannel.
---
We have a lot of folks we like to remember with a small gift each year - teachers, friends, neighbors, co-workers, etc. The Christmas Penguins are a fun way to celebrate. Four designs makes a simple and cheery wall hanging for an office, classroom or home and are quick and easy to make.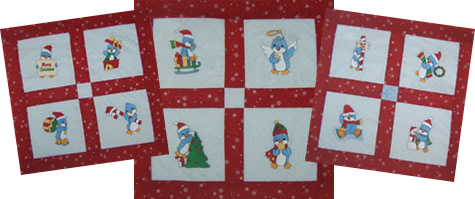 ---
If you have a project made with our designs please send us a picture through email. We would love to share the creativity.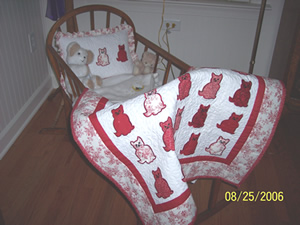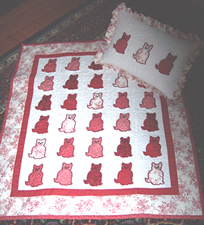 1930's Baby Quilt made by Sue T. with a matching pillow. Absolutely stunning!

---
Here's a clever idea by one our group members, Carolann. She embroidered sayings from Baby Tees Three on prefolded diapers to be used as burp cloths.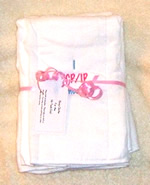 Burp Cloths
for the
Hi-Tech Dad
Place cloth on shoulder. Place baby on cloth on shoulder. Pat baby on back until burp or other bodily function occurs.
There are three tied with a pink ribbon. These were made with designs from Baby Tees Three (including those for computer folks). The attached card says:
---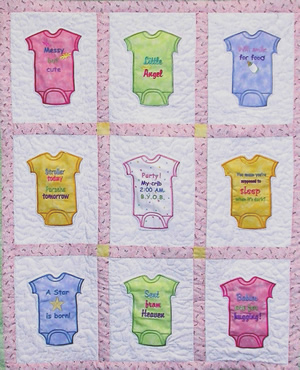 This is a quilt project for "Madeline" who was born in mid-June 2005.
Using 7 designs from the "Baby Tees" set and 2 from "More Baby Tees", this is actually the center of the quilt. There was an additional border (in mint green).
This is a section of the back of the quilt - I used the blank tee shirt to add lettering for a quilt label for this special little one.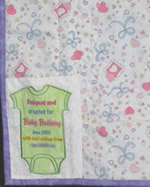 ---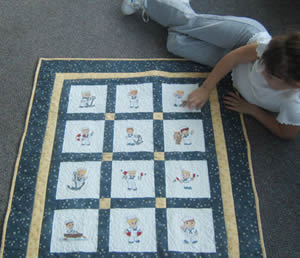 This is the quilt we made to welcome Baby Alex on 11/28/05. That is Samantha playing with the quilt while we waited in the waiting room for her new cousin to be born. The design set is the little "Sailors".
We created these because Alex's mommy has been in the Navy for 17 years and we're very proud of her!
---
If you have pictures of projects you have made, we would love to post them. Please send them to:
CustomerService@CharmingStation.com